The Ultimate Diaper
Kudos diapers are the first disposable diapers with:
☝️100% cotton touching baby's skin -- the #1 doctor-recommended material for rash and eczema
✌️2x the absorption layers to prevent overnight leaks and blowouts
The Ultimate Diaper
Kudos diapers are the first disposable diapers with:
☝️100% cotton touching baby's skin -- the #1 doctor-recommended material for rash and eczema
✌️2x the absorption layers to prevent overnight leaks and blowouts
Size Our diapers run small, so if you are in between sizes we recommend sizing up!
Print
Free shipping on orders over $60!
Try risk-free, 100% happiness guaranteed.
"No leaks or blowouts since using Kudos! Super cute prints too" 😍  - Ana T.
💤
Way more sleep
For you. For baby. Our patent-pending DoubleDry™ tech is engineered to keep onesies dry with two protective layers instead of one. Zzz.
🍑
Happier Butts
Kudos are the first disposables lined with 100% cotton. The #1 doctor-recommended material for rash and eczema. Cotton's soft, natural fibers let butts breathe (so you can, too).
🗓
Fits your schedule
No more doubts about running out! Set Kudos to automatically show up at your door. Resize, skip, or cancel your subscription at any time
Parents love Kudos
Parents love Kudos
How Kudos compares
| | | | | | | |
| --- | --- | --- | --- | --- | --- | --- |
| IReadLabelsForYou safety rating | #1 | #5 | #15 | #16 | #17 | #18 |
| Free of chlorine | | | | | | |
| No plastic touching baby's skin | | | | | | |
| 100% cotton touching baby's skin | | | | | | |
| OEKO-TEX® Standard 100 certified | | | | | | |
| 2 layers of absorption | | | | | | |
| Fully biodegradable / compostable | | | | | | |
Upgrade to 🌱 materials
Don't know what's in your current diaper? You're not alone. Our team of former MIT and P&G engineers (and moms!) takes pride in creating the safest diaper for baby's sensitive skin, the planet…and your couch.
Wait, no bamboo?
Nope! Turns out, bamboo is processed in a way that's not good for Mama 🌎. So it's not in our diapers.
Wanna know more?
Most bamboo fabric is actually rayon, a fiber produced through a caustic chemical process that throws environmentally toxic carbon disulfide (can cause psychosis and lung disease) and hydrogen sulfide (can impact reproductive and eye health) into the environment.
Net net: nope.
Do Kudos diapers have a wetness indicator?
Yes! Each diaper size and all Kudos prints include a helpful wetness indicator that will turn from yellow to blue when a diaper is wet and should be changed.
What is your return policy?
We have a 45-day happiness guarantee and free return policy at Kudos!
If you don't love our diapers or wipes within 45 days, we'll exchange or refund up to 6 diaper packs (one monthly box) and 8 packs of wipes from your most recent order. For diapers that we're unable to resell, we'll donate them to one of our favorite diaper banks. Simply email us at hello@mykudos.com.
How long do diapers typically take to arrive?
Orders ship within 1 to 2 business days of placing the order and arrive within another 2 to 5 business days.
Once your order ships, you'll receive a confirmation email with tracking information, so you can check on your delivery status.
NOTE: We may need an extra 2-3 weeks to process your order because of Shark Tank. We are working as fast as we can to get your orders out 🦈.
How do I change my subscription?
Adjusting your Kudos subscription to fit your schedule is easy! Subscriptions can be set to renew every 3, 4 or 5 weeks. You can change the date of a shipment, skip a shipment, and pause or cancel your subscription by logging into your Kudos subscription account here.
How are Kudos diapers different from bamboo diapers?
Unfortunately, even diapers made of seemingly natural ingredients, like bamboo, can use harmful processing techniques that are dangerous for the planet. Not Kudos. Kudos diapers are made from 2x more plant-based ingredients than the leading natural brands, and are the first and only disposable diaper to have a breathable, hypoallergenic 100% cotton liner. In fact, our cotton is cleaned in a revolutionary process that doesn't use harsh chemicals - you can read more about our cotton here.
Where do you source your cotton?
Kudos diapers are the first and only disposable diapers to have earned the Cotton Natural Seal from Cotton Inc. Our cotton is provided by TruCotton which is 100% sourced from farms in the U.S.A (read more about it here). It's the only thing that touches your baby's sensitive bum!
Are Kudos disposable or reusable?
Kudos diapers are meant to be disposed of in the trash of after use. We know many parents rely on the convenience of disposable diapers, so we've focused our efforts on sourcing Kudos materials from the most sustainable and renewable resources possible. Our diapers are 2x more plant-based than the leading natural disposable diaper brands. We are pushing ourselves (and hopefully, the industry) so that we can get to a 100% plant-based diaper without sacrificing quality. With your help and support, we can get there!
Bundle and save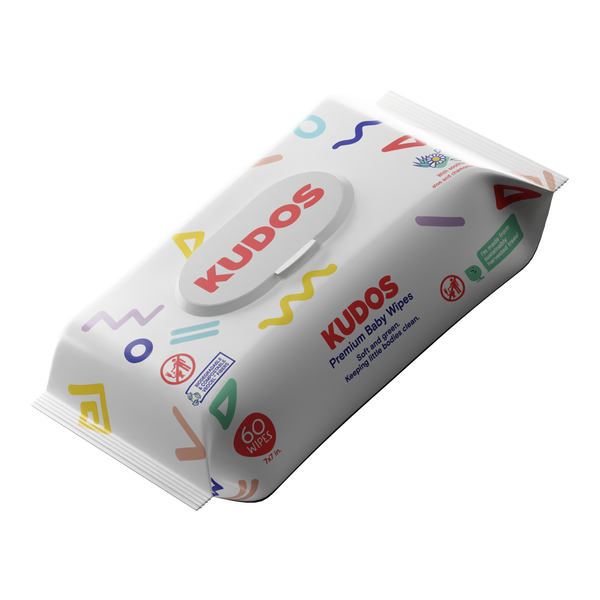 Our new premium wet wipes are engineered to be as
simple, soft, sustainable, and
strong as possible.
purified water.
sustainably-harvested trees.
thick performance grip.